Miramarvelous! A Design Orgasm! The Rosewood Miramar Resort Hotel
It was one of those incredible quintessentially beautiful California days that felt like the scene in Wizard Of Oz when it went from black and white to an explosion of technicolor. The blue sky was bluer, the green grass was greener and the sky seemed to twinkle like a sunshine kaleidoscope through Baccarat crystal. The wildflowers popping open in a celebration akin to a confetti canon. The air singing like archangels celebrating the passing of what felt like endless days of welcome rain.
My boyfriend Kip and I had been invited to our friends ranch up in Ojai. It's a quick hour and twenty minute drive from Los Angeles. Whenever we're lucky enough to be invited up we're in the car so fast we're down the driveway before the front door slams. They've got goats, chickens and horses that seem more like friends than animals on a 6 acre spread overlooking the rose jeweled mountains of the Ojai valley. The wind blows east to west like an air-freshener of sage one way and orange blossoms the other. Determined not to cut our getaway short we left the ranch with the dust trailing behind, turned our Waze app off and just let the car ride where it was inspired to go. My car is pretty smart and followed the sweet scent of Oprah to Montecito! With no agenda or all too familiar time constraints we laced through the oak tree lined back roads carefree, slow and steady. Me not honking my horn or zooming around cars is a rare occasion, but boy oh boy it felt good to just be mellow. Must be all those Oprah Soulful podcasts I'm listening to. The freedom of not having to be somewhere felt like a brain massage. When we rolled into Montecito we parked at a Starbucks and I turned on my HotelTonight app to see what we could find for the night. My hidden agenda was to find a sweet deal at the new Rosewood Miramar, but no dice. I had read about it in the Los Angeles Times and was dying to see this Paul Williams inspired utopia. Arguably the most famous and successful African American architect of the 20th century, Paul Williams has been one of my favorite designers for the better part of two decades. My friend owns a Paul Williams designed home in Bel Air so I've been intimate with those glorious curves for a while. I went to Expedia and boom there she is, the Rosewood Miramar for only, ouch, $800 and change a night. That ain't gonna happen today. So we opted for the cute, although a bit weathered, Villa Rosa in Santa Barbara. I was shocked how many amazing pieces of art and furniture were in this little boutique hotel, but the hotel itself had sadly been ridden hard and put away wet. Had I brought my tool box, my instinctual need to fix everything would've had me hammering away, but I digress. Let's get to the real reason I'm here and that is to see the Miramar.
The Miramar has been around for over 140 years! Back in the day it was a railway stop and was host to countless celebrities. My very own Grandparents honeymooned there in the 1940's! It started as a farm that soon rented out rooms and eventually added guest bungalows little by little. The property was purchased by Ian Schrager in 2000, the hotelier of Studio 54 fame. After a lot of development drama Schrager gave up and it was finally sold to developer Rick Caruso. Caruso, who over the last 20 years has changed the landscape and culture of Los Angeles with his smash hit The Grove at Los Angeles' historic landmark The Farmer's Market and several subsequent properties around L.A., went through many years of his own development drama with Santa Barbara and finally was approved for ground breaking in 2016. Caruso, almost single handedly has changed the way Angelenos come together. When I was a kid I was always so fascinated by history and the Farmer's Market was one of my favorite places to go, but it was a bit of a ghost town back then. I'd rollerblade from my Grandpa's place to the Farmer's Market to go to the news stand and pick up a Drama Logue ( an old casting magazine for actors that was bought by Backstage ). As I sat there reading it I was usually surrounded by retirees and crickets having coffee and donuts. Caruso obviously saw what I saw and that was this charming historic nugget was being underutilized and wasting away. The Grove at The Farmer's Market was an instant hit and it was the first time in a long time I had seen all cultural walks of life come together in one place in Los Angeles. It didn't come without criticism from a lot of historic prudes, but to this historic prude it was magical and a much needed space for Los Angeles.
The new Rosewood Miramar on the other hand is not exactly the same cup of tea. It's a cup of tea with pinkies way up! This property is a cultural being of the upper echelon. Caruso clearly meant for this to be serious luxury to nth degree. With rooms starting at $800 per night, this guy (meaning me) is gonna have to plan far ahead for even one night. While I can't speak to the experience of staying there, I can tell you about my experience of being there in two words, design boner. Crass as it may sound, everywhere I turned I was in orgasmic heaven! I simply can't downplay my love affair with walking around every corner of this masterpiece.
Let's start at the very beginning as Julie Andrews would sing "it's a very good place to start". And it literally felt like the hills, or the hotel were alive with the sound of music. We pulled into the stunning circular stone motor-court surrounding a fountain greeted by the friendly valet who informed us disappointingly that if we didn't have a reservation, they were completely booked at the restaurants. Nothing was stopping me from walking the property so we headed through the classic Paul Williams Georgian colonial columned portico with friezes and cornices and painted brick oh my!  The grand foyer with it's black and white marble floor and sweeping staircase with crisp white paneled walls also stuck to the signature of Paul Williams if not a super sized version. It felt more like I was walking into a glamorous party at someone's mansion rather than a hotel. We carried forward into the grand salon where, be still my heart, there was a nicely dressed woman adjusting the position of a book on an end table. This is a job I usually do for free all over the world! Here they were paying someone to do it! With details like that I had to tackle her down to give me the lowdown on the property. Thank God I did because she had a treasure trove of knowledge on what not to miss! She brought us into the library to show us an oil by Norman Rockwell hung above the fireplace with incredible crystal obelisk light sconces on each side. The navy and saddle hued room was stunning with its floor to ceiling diamond glass and leaded bay window with a stained glass monogram. I buffed my nails across my shoulders when I saw the same brass chandelier that hangs in my living room was hanging in the bay window! She then led us to another lounge bar. This one more vibrantly colored with a Botero oil hanging above the fireplace! The art is insane! This bar had a beautiful sofa with teal shades of blue in a Missoni pattern next to the bar with royal purple leather bar stools. I thought the personal pictures of Caruso and his family on the bookshelves was a nice touch continuing to give you that homey feel. Before the nicely accommodating and wealth of knowledge lady had to leave us, she gave us a few other landmarks to see on the property. These included a Picasso in the Founder's Suite (if we could get in, which we couldn't) and hand painted wall paper in the private dining room of the Malibu Farm restaurant which was dreamy. I'm a curious cat so I opened every possible door that wasn't locked. I'm not sure what was behind the doors on top of the foyer staircase, but the lacquered wall that dead ends there is stunning! The first terrace outside the grand salon has a white harem tented awning with gorgeous white and powder blue accented furniture. Beyond the terrace is a sprawling lawn you could nearly play polo on and it is hugged by two separate olympic sized pools on each side. To the right beyond the main structure is a labyrinth of bungalows reminiscent of the Beverly Hills hotel. Sticking to it's roots the bungalows are covered in creamy clapboard, gabled roofs and copper gutters. The landscaping, in classic Caruso fashion, is Disneyland-esque with it's magnolias, hydrangeas, boxwoods, velvety clumping grasses, and honeysuckle scented brugmansias to name a few. We tried to peek into the rooms, but we got nervous haha! We headed beyond the rolling lawn to the beach. Right before you get there you are greeted by an attendant to safely cross you over the train tracks! We sat at the bar and ordered a couple cocktails and enjoyed a conversation with the friendly bartender. I did have to school the bartender a little after he informed me that the famous architect Paul Williams designed the hotel. I said "Well that's amazing, he's still got it at 125 years old!". I let him in on the joke and gave him a little history lesson on the deceased architect. He took it like a champ and he meant well. He told us we could take our drinks down on the beach because it was owned by the hotel, so we carried them down to the entrance where they stopped us to transfer our drinks into plastic cups. The beach furniture unfortunately was my only let down. It seemed like it might have been an after thought. One chair we sat in was already broken and it all seemed too ordinary for this extraordinary venue. It's probably not easy to move all those chairs, lounges and umbrellas in due to the high tides there, but I'm sure they can do better. I'd love to see red and white striped pagoda market umbrellas with scalloped trimmed edges! On another note, I'm so glad I had to visit the beach restrooms! When I tell you nearly no stone was unturned, the mens bathroom was stunning with it's powder blue veined Rorschach marble that included marble base boards and marble molding and door jams….I mean!!! YES! I found out that the lead interior designer was Caruso's personal designer, Diane Johnson. She is definitely a girl after my own heart and I applaud her and the entire team of designers, architects and contractors. I could really go on for twice as long, but let me show you the fun part, the pictures I took! This place is dreamy!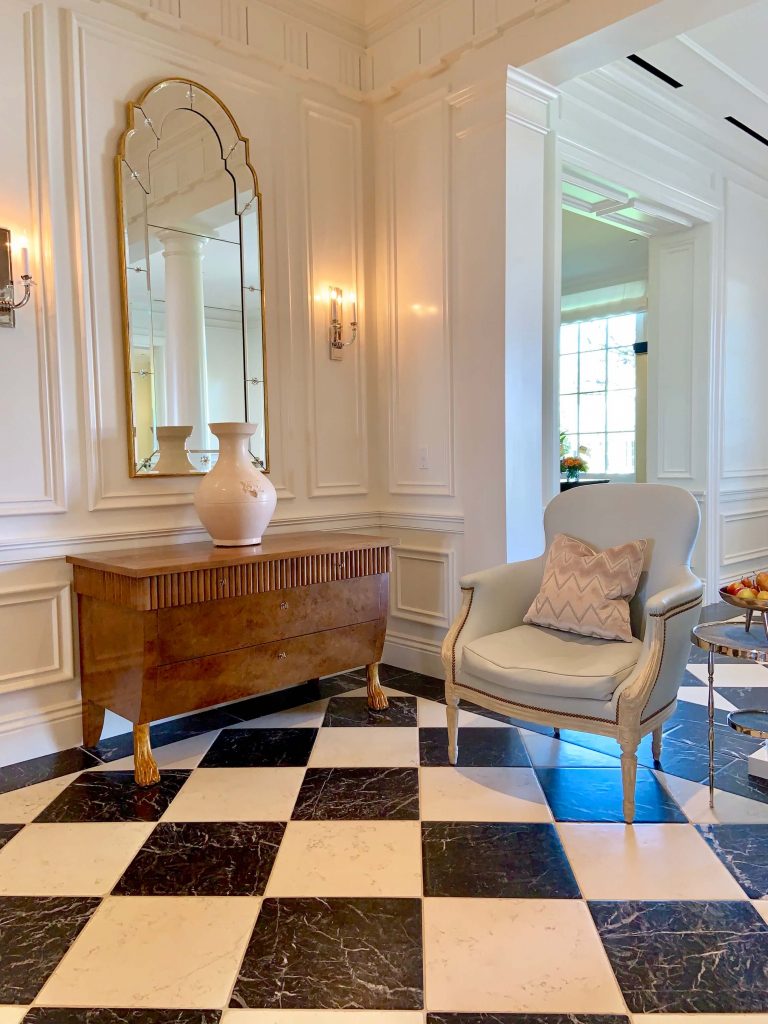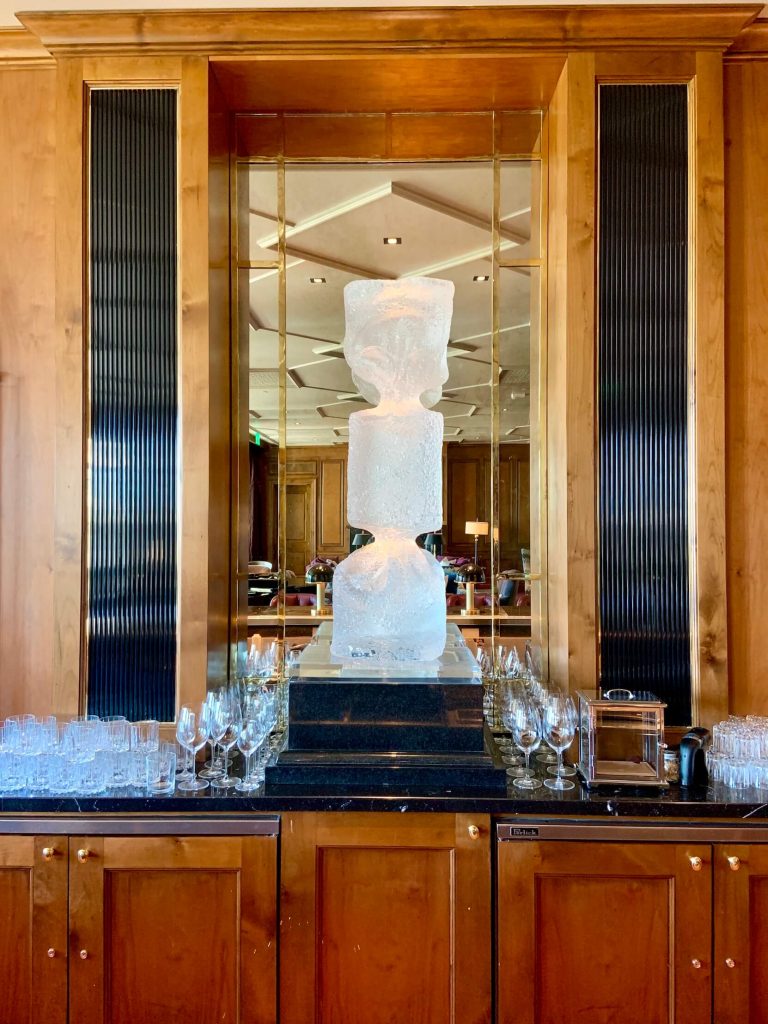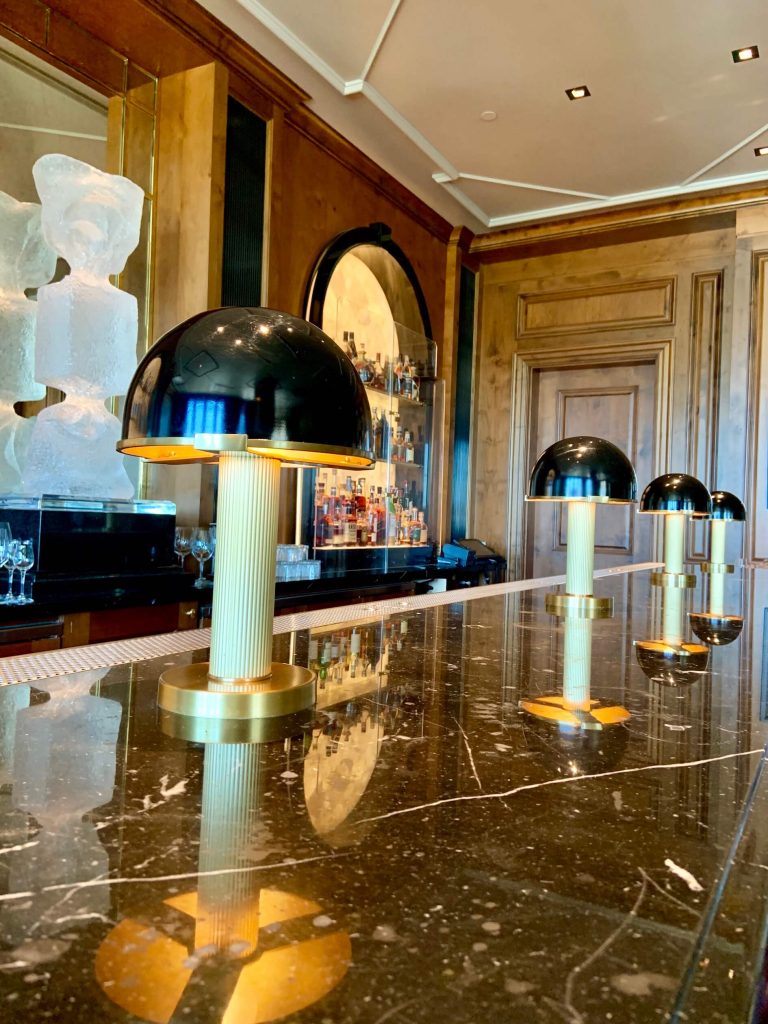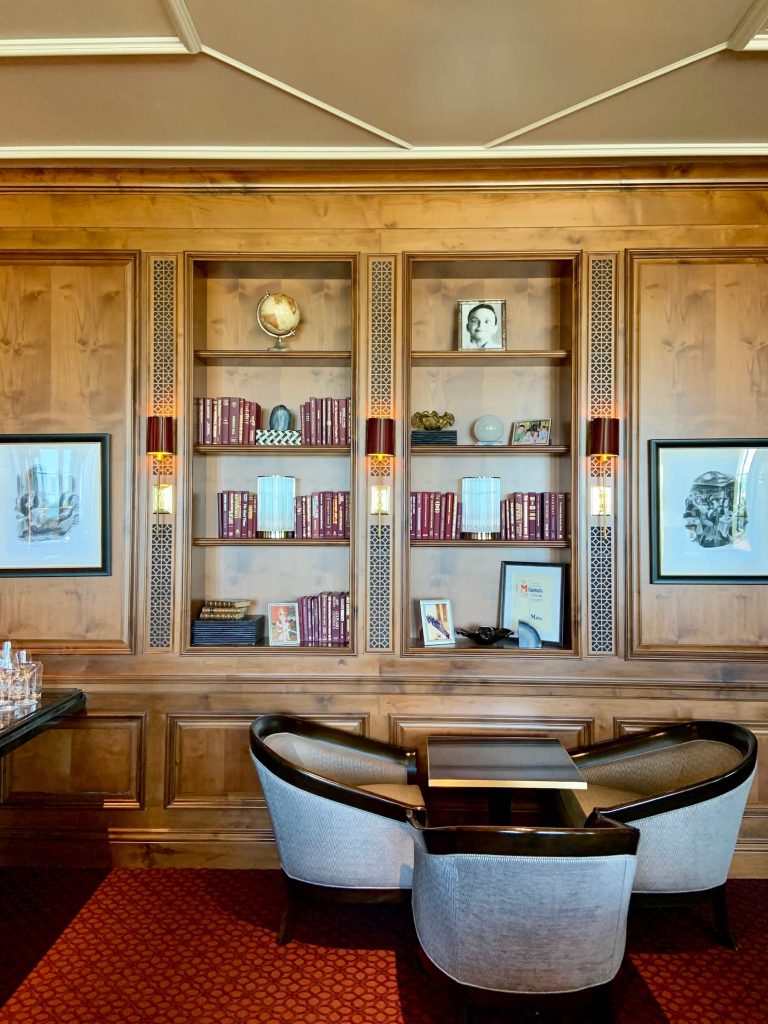 Loved Caruso's family pictures on the bookshelves.