Carrot Cake Cheesecake with Orange Cream Cheese Frosting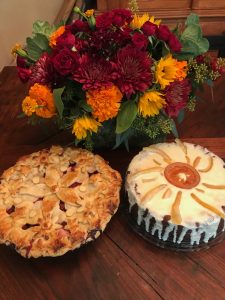 On the right is my Carrot Cake Cheesecake with Orange Cream Cheese Frosting! On the left is my Ginger Berry Pie (which will be in my next blog post and it's AMAZING too!)
You guys! I made this for our family's Thanksgiving and it was a HUGE hit! The flavor is a mouth party! You might be thinking "Thanksgiving?!". In my personal opinion this cake is amazing all year round here in Los Angeles. It would make a great Spring cake if we had seasons here, but Los Angeles is blessed with crisp blue skies and sunshine most of the year. I'm not a huge pumpkin pie fan and oranges are ripely growing right outside my windows right now and it's almost December! I can literally open my windows and pick a fresh orange. The orange blossom smell around my home is intoxicating! I've also included a recipe for candied orange. Now, I didn't have the time to allow for candied oranges to dry so I ended up buying them from our Farmer's Market. Yikes! They are $30 per pound here! I only bought about a third of a pound costing me $10 bucks! So if you're not a procrastinator like me (or just extremely busy like me) I'd suggest candying your own oranges. It's super cheap to do and really only takes about 24 hours of drying time.
To make this cake over the moon I suggest not skimping on the ingredients! Meaning use real vanilla extract, top shelf butter, high grade cream cheese (not generic or store brand), fresh eggs and fresh produce ( I DID use canned pineapple, but again only because I couldn't get ripened pineapple and I think cut up store bought pineapple is usually never ripe and too expensive). This recipe may seem very involved, but I assure you it's easy if you simply follow the directions to the T.
Tell me how it goes!!
INGREDIENTS
CHEESECAKE

16

ounces cream cheese(at room temp) (2 – 8oz. packages of Philadelphia Cream Cheese and if you can get fresh Deli cream cheese even better!)

3⁄4

cup granulated sugar

1 

tablespoon flour

3 

eggs (I use free range organic)

1

teaspoon vanilla

CARROT CAKE

3⁄4

cup vegetable oil

1

cup granulated sugar

2

eggs

1

teaspoon vanilla

1

cup flour

1

teaspoon baking soda

1

teaspoon cinnamon

1

dash salt

1

(8 1/2 ounce) can crushed pineapple, well drained (1 cup fresh crushed pineapple)

1

cup grated carrot (use smallest grate or grate in food processor Cuisinart)

1⁄2

cup flaked coconut

1⁄2

cup chopped walnuts or pecans

1/2cup chopped candied orange or 1 tablespoon Orange Zest
1/2 cup Raisins (Optional)
ORANGE CREAM CHEESE FROSTING

2

ounces cream cheese, softened

1

tablespoon butter, softened ( I use Plugra salted )

1 3⁄4

cups powdered sugar

1⁄2

teaspoon vanilla

1/4 cup fresh squeezed Orange juice

2 tablespoons orange zest
1 teaspoon Orange flavoring (optional)
Top with one candied orange slice and several candied orange rinds to form a Sun (optional)
DIRECTIONS
To make cheesecake, In large bowl of electric mixer, beat together 2 – 8 oz. pkgs cream cheese and 3/4 cup sugar until smooth.
Beat in 1 tablespoon flour, 3 eggs and 2 teaspoons vanilla until smooth. Set aside.
Meanwhile prepare Carrot Cake: In large bowl, combine oil, 1 cup sugar, 2 eggs and 1 teaspoon vanilla, blending thoroughly.
Stir in 1 cup flour, baking soda, cinnamon and dash salt, mixing well.
Stir in drained pineapple, carrots, coconut and walnuts (or pecans) and raisins (optional).
Spread 1 1/2 cups carrot cake batter over bottom of greased 9-or 9 1/2-inch springform pan.
Drop large spoonfuls of cream cheese batter over carrot cake batter; top with large spoonfuls of remaining carrot cake batter.
Repeat with remaining cream cheese batter, spreading evenly with a knife.
Do not marble with a knife.
Bake in preheated 350 degree oven 50 to 65 minutes or until cake is set and cooked through (To check if your cheesecake is done, gently shake the cheesecake. If the cheesecake looks nearly set and only a small circle in the center jiggles slightly, it is done. (The center will firm up during the cooling time.) Do not use a knife to check doneness.)
Cool to room temperature, then refrigerate.
When cake is cold, prepare Orange Cream Cheese Frosting.
In a bowl of electric mixer, combine 2 oz cream cheese, butter, powdered sugar, 1/2 teaspoon vanilla, 1/4 cup fresh orange juice and dash of salt plus optional 1 teaspoon Orange flavoring.
Beat until smooth and of spreading consistency.
Frost top of cheesecake, let it run down the sides by pushing it over the crown.
Refrigerate 3 to 4 hours before serving and decorate after refrigeration.

CANDIED ORANGE

Ingredients

US Cups

4

 

small oranges

4

 

cups

 

water

2

 

cups

 

granulated sugar

 

plus more for coating

Instructions

Fill a large bowl with ice water and set aside.

Add the 4 cups water to a large saucepan and bring to a boil over high heat. Add the orange slices. Boil for 1 minute. Transfer the orange slices to the bowl of ice water. Use a ladle to set aside 2 cups of the water used for boiling and discard the rest.

In a large pot or skillet, add the 2 cups reserved water and sugar. Bring to a boil over medium heat, stirring occasionally until the sugar has completely dissolved.

Turn the heat to medium-low and arrange the orange slices in a single layer. Simmer for 45-60 minutes or until rinds are slightly translucent. Swirl the slices in the pan every 15 minutes to make sure they are evenly coated with the sugar water.

Transfer the slices to a cooling rack set over a large baking sheet. Let them sit for up to 24 hours or until dry.

Dip the candied orange slices in granulated sugar, if desired. Use immediately or store them in an airtight container in the refrigerator for up to 1 month.